The "Class of '22" have arrived Safely.
Hazel (Liver Min schnauzer)has safely delivered a litter of 6 x beautiful Boozer pups.

Name: Henry
Breed: Boozer
Colour: Liver Abstract (brown with white flashes on his chin, chest and rear toes)
DOB: 04/11/2022
Gender: Male
Anticipated adult weight 4-5kg

Price: £

Status: RESERVED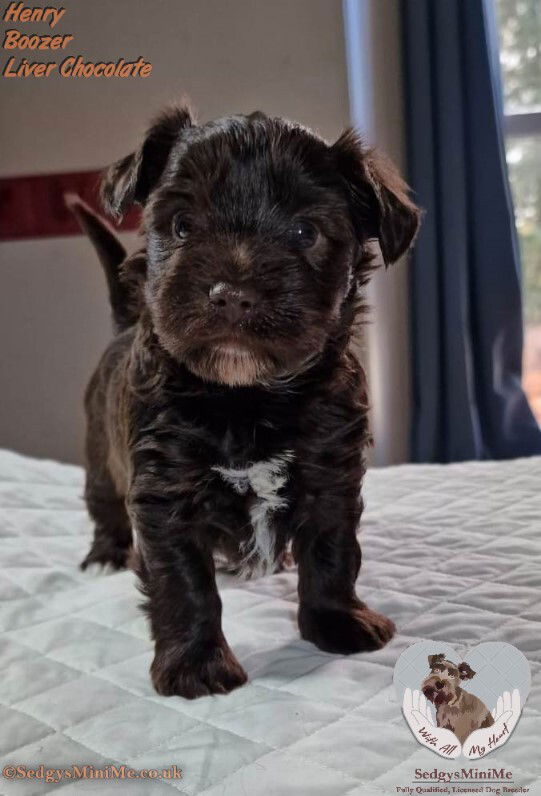 Hazel, my smallest Liver Miniature Schnauzer (4.5kg) , and Gin, my Black Brindle Biewer Terrier (3.5kg) have become proud parents to my second litter of this beautiful mix Breed.
Typical Adult weight of pups 3.5-6kg
Price: £RESERVED
Born on 4th November, he will be ready to leave me mid Janaury 2023
Price will include:-
Fully Vaccinated before leaving me
Vet health checked twice before leaving me
Microchipped before leaving me
Insured for the first month with Petplan & Agria from date of collection
Wormed properly from 3 weeks of age
Early Neurological Stimulation (ENS) & Early Scent Introduction (ESI) Procedures will be incorporated into their early life to help raise more robust, resilient pups
Flea/Ear Mite protected with Veterinary prescribed products and follow on product provided
Comprehensive Puppy Pack (Puppy Sales Contract, Veterinary signed vaccination card, microchip transfer documents, insurance documents, Personalised Worming and Flea Protection Records, Personalised Diet sheet, Advice Sheets, Food Vouchers, Sealed bag of dry food, Food Puppy Pack, wet food pouches, blanket with scent of mother and siblings, favorite toys, treats, clicker machine, natural chews and puppy enrichment items included)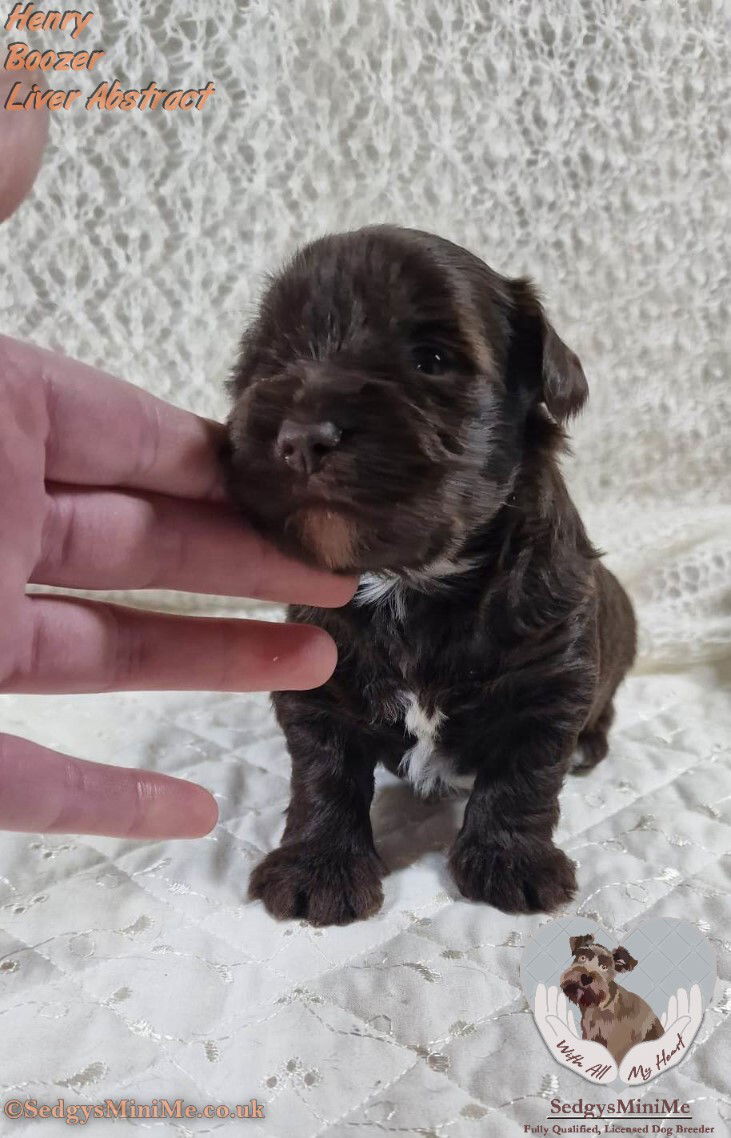 All pups and mum doing very well. Video below of the new borns:-


(Pics and details of my 1st Litter of Boozers can be found below)



Boozer Background:
I bred a Litter of Boozers in 2021. Mum, Domino (and dad, Gin) had 7 pups in their litter. Each pup was an absolute delight to raise, and each has gone on to be much loved by their new families, and have given so much joy to their families and everybody that they have met over this past year. As this was my first litter of Boozers, I contacted each of my 2021 Boozer families on their 1st Birthday recently to ask for their feedback about their Boozer pup, so that I can provide potential new owners with an insight into the mix, their temperament, character, traits, size, weight, coat type, colour etc etc.. so that you know what you are letting yourselves in for in offering a home to one of these pups. Most of their families had already been keeping in touch with me throughout the year, but I wanted to standardise the feedback so that I could compare the pups for future reference, and decide whether it was a good idea to breed a further litter of the Boozers. I have to say, that the feedback was overwhelming. I am very proud of each and every one of my "Class of '21". They really have given so much love and joy, and new memories, and laughs and admiration to everybody that they meet, and possibly the occassional groan and sigh along the way, but that is what having a puppy is all about isn't it, no dog was ever perfect, and nobody said raising a puppy was easy, but I think it is fair to say, that each and every one of the families of my 1st Boozer pups, could not now imagine living without their Boozer, from the start they became firm family members.
I have incorporated each of the owners' feedback below so that you can read for yourselves how much love there is for this mix breed, and I have also set up a Picture Gallery (Pics provided by each of their owners)from puppy to adulthood, so that you can see how they will look when older.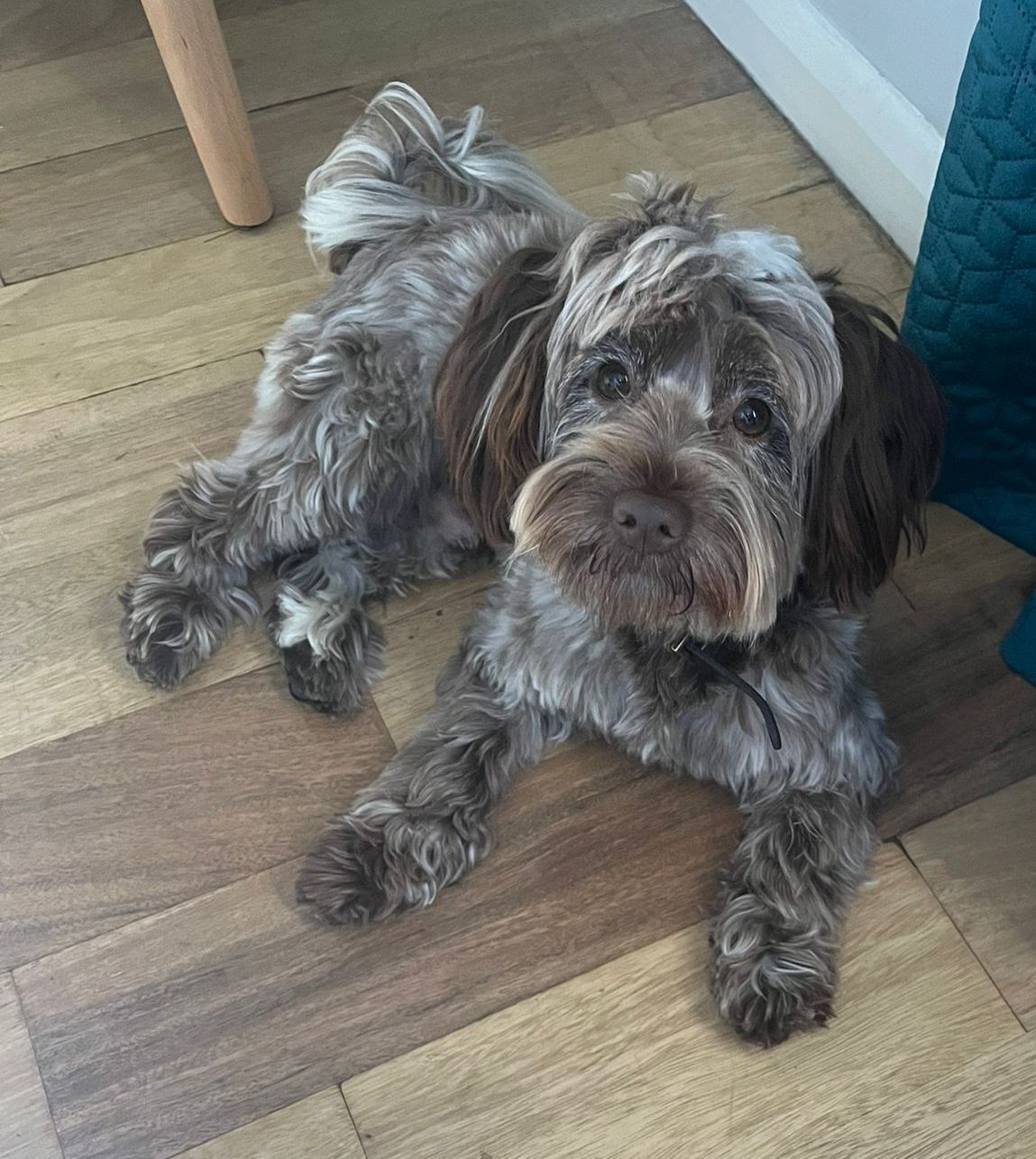 Hamish one of my "Class of '21"
---
Class of '21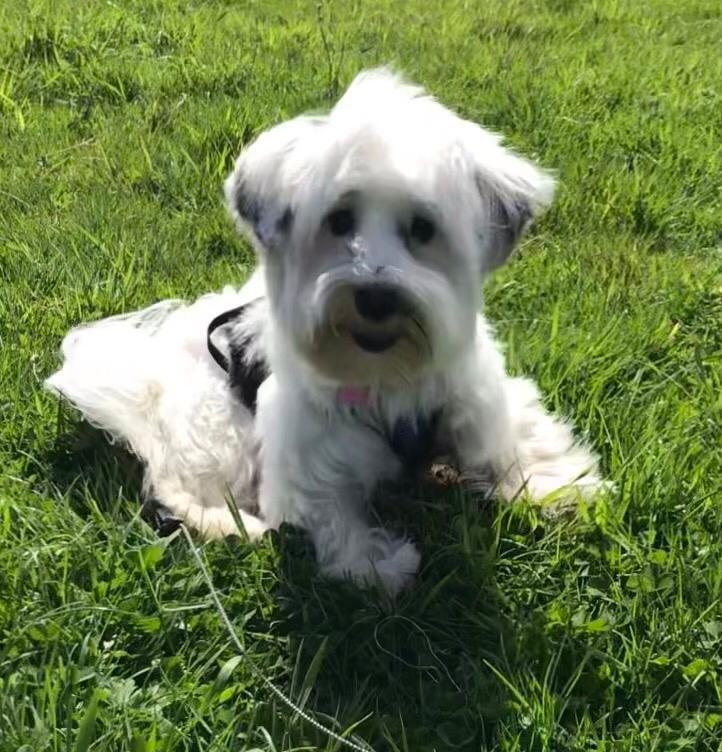 Bella:


At her puppy class they named her Bella the brave as when she arrived for the first time she headed straight to the group and wanted to play. Two of her best friends are a massive Deer hound and a Giant Schnauzer who is the same age as her and ten times bigger. She was also really good with the quiet frightened ones and would keep going back to them and encouraging them until they would play with her. She has never shown any aggression to other dogs (even if they are aggressive with her) or people. I have never heard her growl. She barks to be let outside or to get your attention but otherwise she is very quite even when strangers come to the house.
She loves everyone she meets and greets everyone who will entertain her with bouncy tail wagging and excessive licking if she can get away with it. She especially loves children and would play with them all day if possible. I would say she is intelligent she picked up all of the things taught at training classes very quickly and was house trained within a couple of weeks. She has slept through the night since day two and even on her first night was only a little upset but she sleeps by my bed so she was easy to settle. She walks nicely on the lead and has good recall for the most part. She is not timid although she can be sensibly wary of the unknown. She is not afraid of loud noises, fireworks, thunder or household appliances and was comfortable with horses on first meeting them she even likes cats. She is very loving and affectionate but not a lap dog she will permit a short cuddle session but will usually sit beside me or on my feet she also like her own space for a time. She likes the cold she finds the coolest places to lie and will sometimes ask to go outside to just lie on the grass even in the snow. She likes to chew but not eat things especially paper even now she is older and enjoyed digging as a puppy but this has lessened as she gets older.
She is a fussy eater and I have tried innumerable types of food but never found one she will eat consistently I think this is the Beiwer/Yorkie side of her nature. She also has a stubborn, bossy side to her if allowed to get away with it. Her coat is long, wavy rather than curly and very, very soft. I am not sure if it is double , I can't identify two textures but it can mat very easily so I think it may be. It grows quickly so would need grooming every couple of months to keep it neat. She does lose some hair on grooming but I haven't noticed that she sheds as such. She needs a lot of brushing and a good few baths to keep her clean as her hair is like Velcro everything sticks to it. She gets very dirty. She also needs to wear a coat in bad weather as her fur gets very wet and she gets cold. She is still mainly white with big black patches but as you mentioned when she was small she is now developing several small black spots
She has had no health problems her puppy teeth all came out and her adult ones have no problems. She weighs 5kgs which was as expected and the vet tells me is a good healthy weight for her size. She does have some separation anxiety which we are working on but it's a work in progress. We spend most of our time together and I take her everywhere I can so I think she thinks she is missing out on something if I leave her behind.

I am very happy with Bella she is the best dog I could ever have imagined. I would highly recommend that you breed some more and judging buy the number of people who ask me about her and tell me they would love to have one like her................. Gillian
---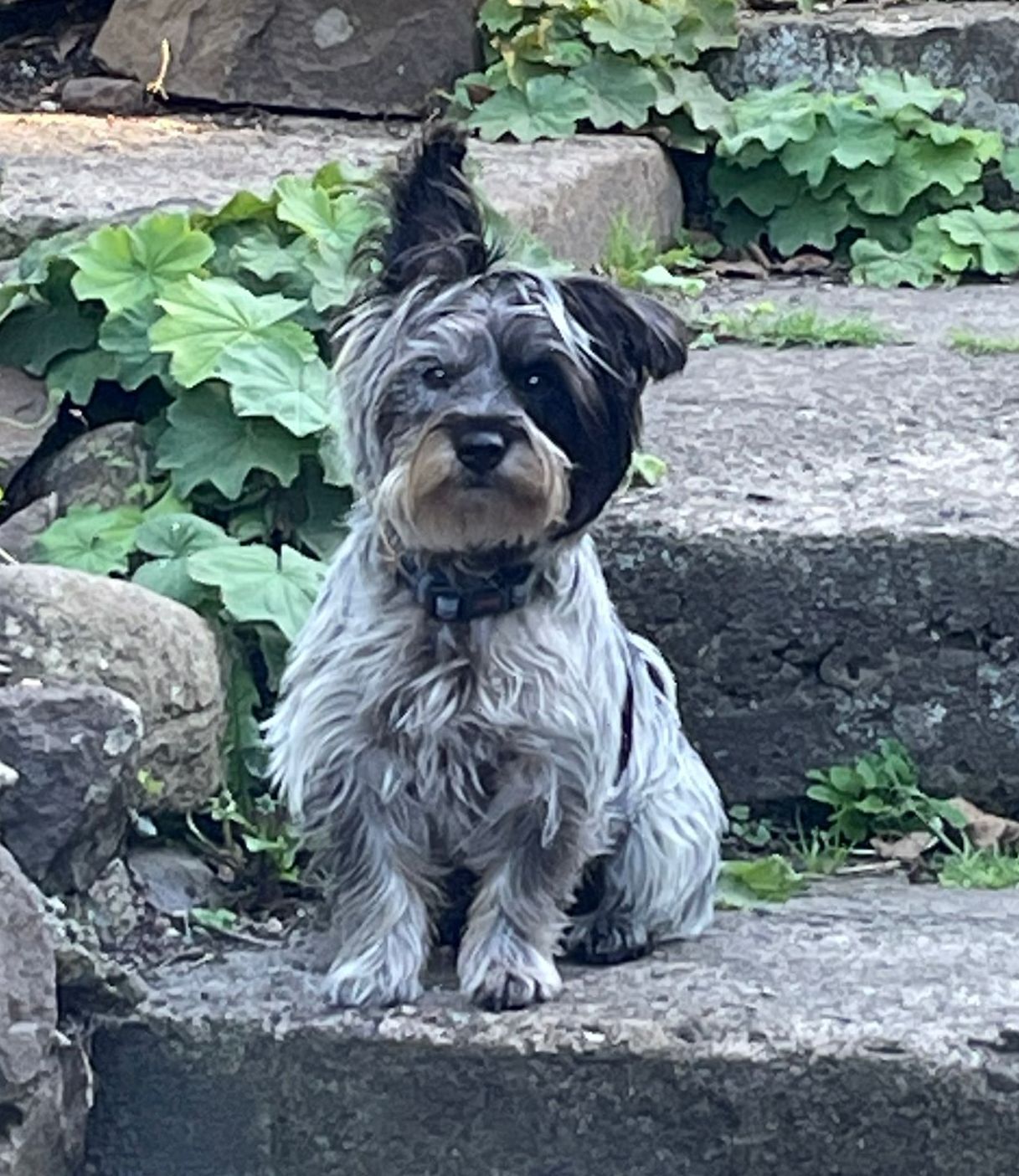 Bourbon:
More Pictures of Bourbon here
Good morning Jan! We are delighted with Bourbon, after a lot of research his temperament Mix was what we were after .
He weighs 6.6Kg, he's a lovely boy, very affectionate, loves early morning cwtches (cuddles) . He took a while to crate train, he just wants to be where you are all the time. He's quite a sensitive lad, just wants to be near us all the time. We leave him occasionally for an hour here or there but he doesn't like it much.
He adores people, other dogs(slightly over zealously sometimes!) he's pretty good when comes to training, knows basic commands - sit, paw, down & wait. We can tell when he's actively listening & when not. We occasionally let him off lead but generally not due to him going off with any human that shows affection!

We love his get up & go nature, he loves the car, we've taken him camping several times which he loves. Taken him sea swimming, getting there with that one! He enjoys long walks now too. He can be quite head strong! He buries treats 🙄 then discovers them bringing in mud n all! His health has been fine, I would say maybe a little delicate in stomach area similar to Yorkshire terrier temperament , lately he's had skin irritation but we think that's just long grass biters , we're using special shampoo which helps.
His coat is beautiful, long haired slightly coarse, we brush most days & take too groomers every three months as we like the long hair. He does shed a hair here n there but not too bad. He is a magnet for bits of twigs & other stuff soo needs regular showers!! He gets a lot of attention for his unusual colouring. He's very gentle with children, loves curling up at the feet n giving occasional licks (loves feet). Not seen any aggression in him, he barked once at Belle the Airedale because she came near his bone! He barks very rarely, maybe if someone comes to door or out in walk if dog on other side of street but not often.
---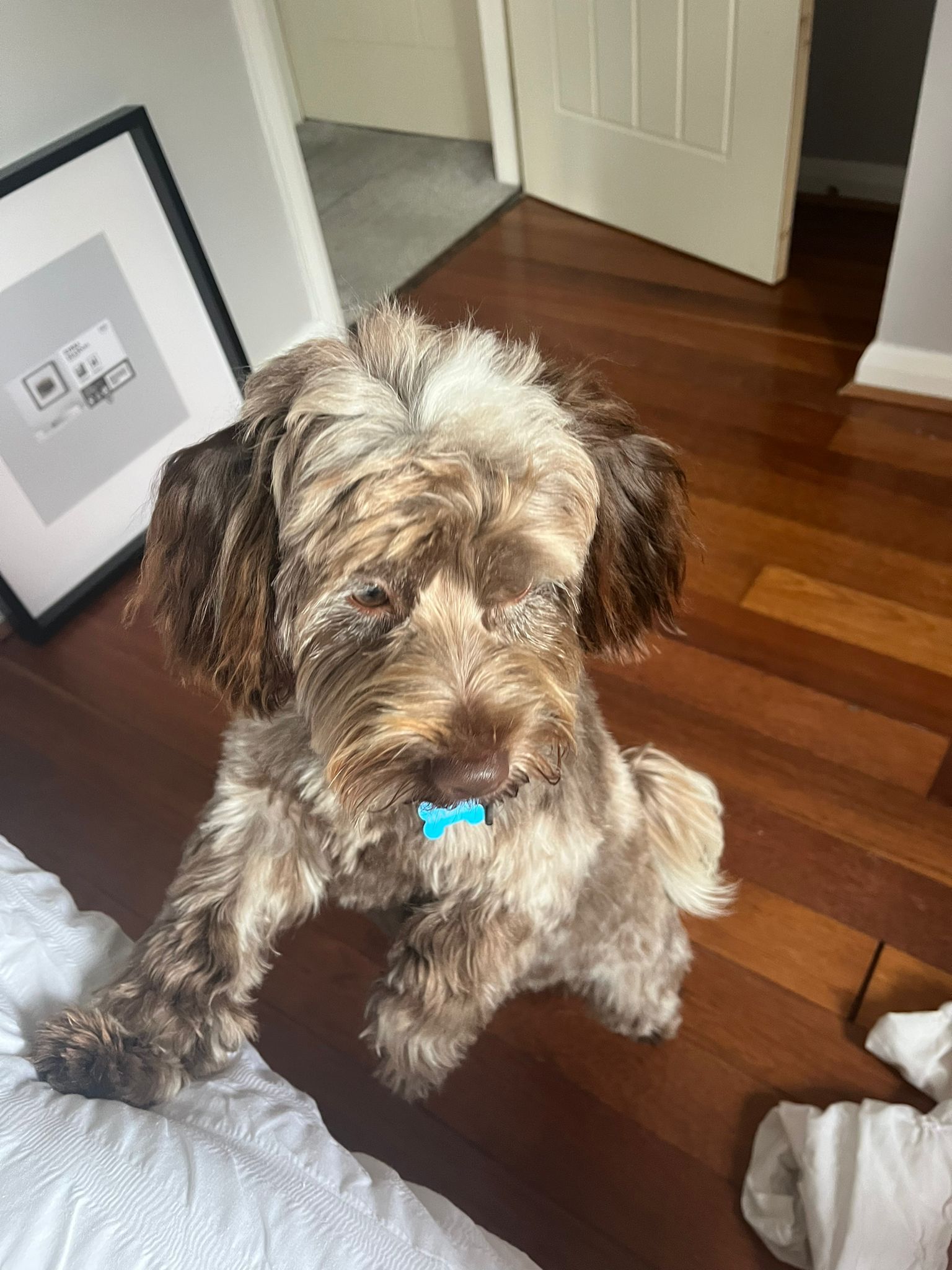 Hamish:
Hi Jan, thank you. He had a great birthday and had his first doggy cupcake to celebrate. Great news on breeding again. Hamish really is a wee delight and so loveable. He's full of fun, loves a crazy hour of running around mad. He's extremely content and also likes his own company. Very laid back, sometimes like a wee old man. Very intelligent too, didn't take him long to learn the ropes and new tricks too. Only trait that he does have, is that yap of a bark. It's not all the time, just when he wants to play with other dogs or tells us he needs out a walk for his toilet. Can't complain. He loves everyone, recently welcomed a newborn niece and he's brilliant with her. We actually can't take him anywhere for people stopping and admiring him. Hamish is 4.5kg. Fussy with his food, likes a change in menu a lot 😂. Gets groomed every 5/6 weeks. Great health and his teeth are perfectly straight and white. Lovely white/chocolate coat.
I recommend anyone to get a Hamish. He's a fantastic mix. We are so lucky to have him.
Thanks for checking in. Hope you and your dogs are well ❤️ xx
---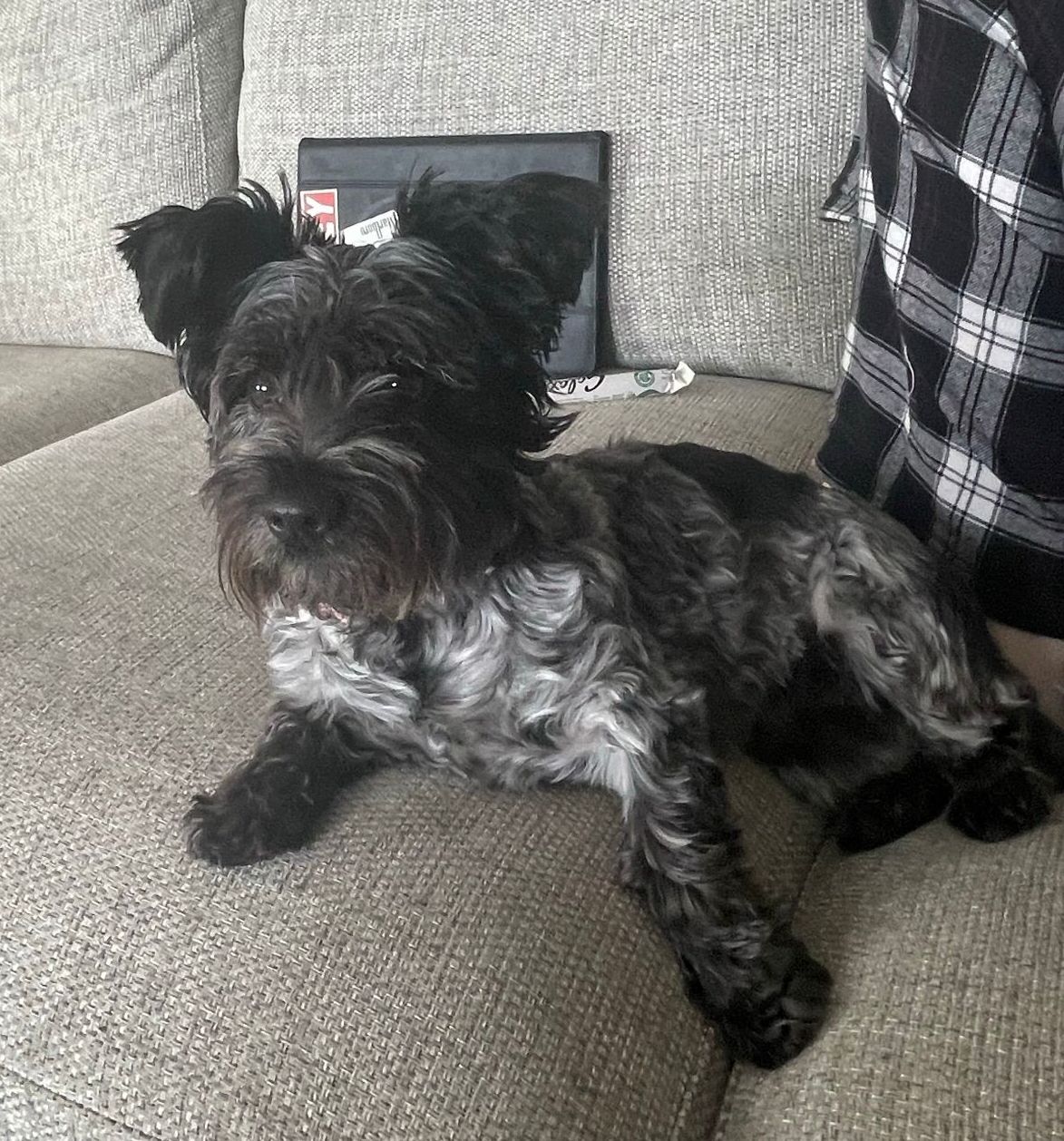 Remi:
Hi Jan, It's lovely to hear from you! We are all great thank you and hope your well!
Our girl is the best decision we have made 🥰 she is cheeky, loving, absolutely gorgeous and the love of our lives 🤍 she has got a soft think coat and it grows quite quickly so she Is groomed roughly every 6-8 week but we clip her short because with her long coat she was getting twigs and things stuck in her coat. She has the sweetest temperament and is very loving 🥰 she loves to be close to us and is a great mix of active and lazy lol she last weighed at 4.2kg. She is very mothering nature. She loves all other animals and loves to play with our 2 hamsters 🐹 lol she is submissive with other dogs and just wants to be friends with everything and everyone.
She has a habit of digging her way under our fence and has made an appearance in the neighbouring garden a couple of times. She is very clever and thinks she is part human haha. She is vocal when she wants our attention, out to the toilet and if you talk to her she will talk back lol 😂 she isn't overly noisy tho.
She loves to steal our clothes and sleep with them or have a little chew at times. She was brilliant to toilet train and is absolutely brilliant at night sleeping and is great travelling in the car. She comes most places with us but if she is left at home she is quiet content till we comes back and can be left for 4 hours no problem.
I am absolutely over the moon that you are looking at doing another litter because we want to get Remi a brother or sister so she has company. She has such a wonderful temperament I think she would love it.
She is a great like girl and I'll hugely grateful we have her in our life 🥰 xxn
---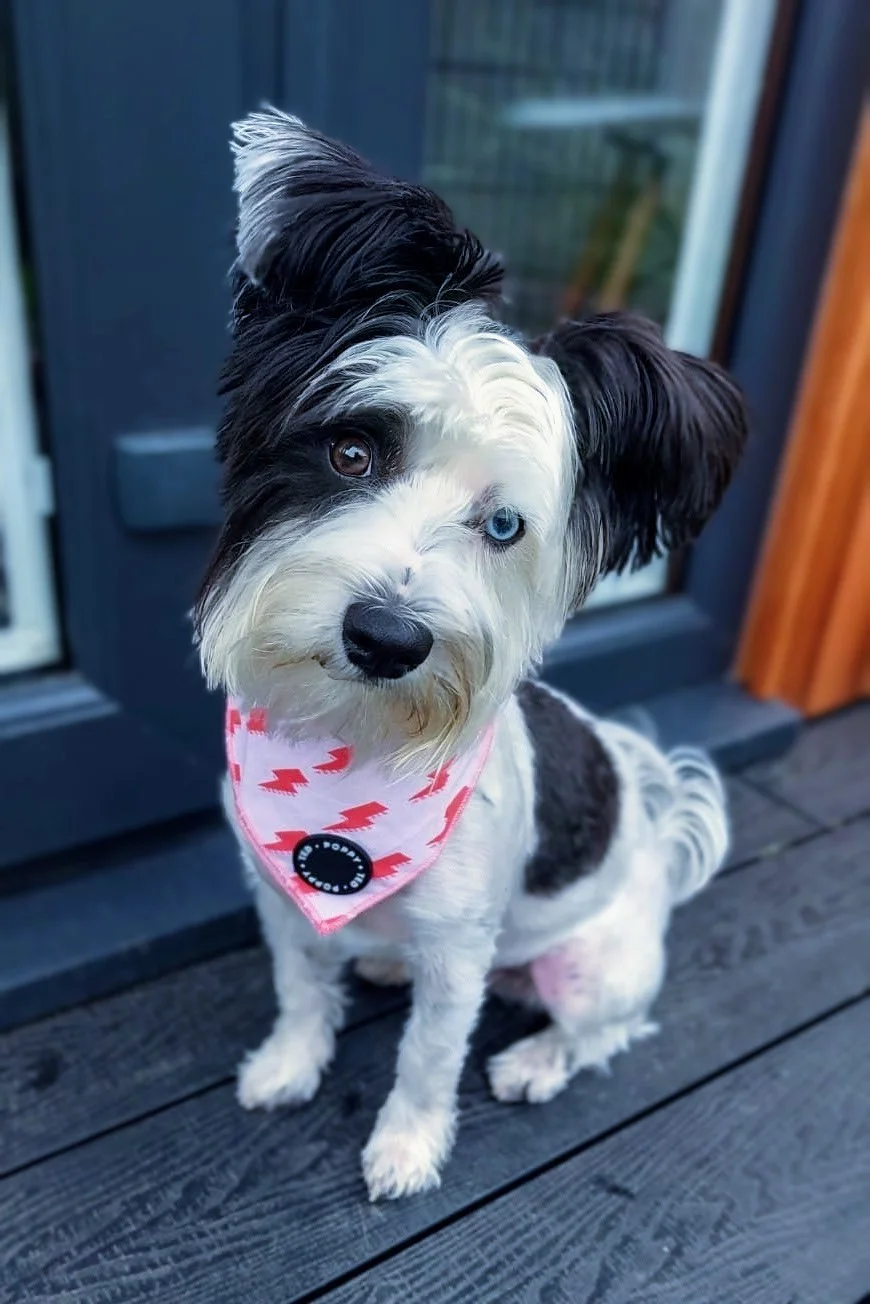 Ziggy:

More pictures of ziggy here
Hi Jan, We can't believe Ziggy is one! He had a busy birthday with walkies, presents and cake! I'll try and tell you as much as I can about him, I could talk about him all day!
At the moment he weighs 7kg. He is booked in to be neutered on 19th September so we know his weight may go up a little bit. He's just started lifting his leg, scent marking and crying for girls in the last couple of weeks so it's definitely time!
His coat hasn't changed much, he is still very soft and he doesn't shed. He has a few wiry bits in his tail but that's about it. It does grow fast and it gets quite long so he's needing groomed approximately every 3 months. His skin has gradually turned spotty! When he had his first proper groom we realised that the patch on his back is heart shaped when it's shaved short!
Ziggy is alway happy, friendly and sociable, he loves everyone. He has never once shown any kind of aggression, I always say he doesn't have a bad bone in his body! He has never growled at anyone. He is patient with the kids, for example if they pick him up for a cuddle he won't grumble about it, he'll let you do anything! All of our other dogs have been a bit grumpy if we ever woke them up or tried to get something off them but Ziggy is never like that and he has absolutely no issues with resource guarding or anything like that. He adores other dogs and idolises his cockapoo brother.
Ziggy has loads of energy and is always excited! Sometimes I call him the energizer bunny! The one thing I would say is that he does get VERY excited when we meet other dogs on walks. He just wants to say hello and play with them but he can be a bit barky when he can't get to them so this is something we're working on! He has always been around other dogs and has been socialised well so I have put it down to his personality! He does tend to pull on the lead as well, even with a no pull harness. Again its something we're working on and he will maybe calm down as he gets older!
He is extremely playful and loves toys. He likes to chew, especially hard plastic toys and toilet roll tubes! We have to keep important paperwork out of reach! I think he would live in the garden if I let him because he loves to be outdoors. He hates puddles but loves paddling at the beach for some reason!
I would say toilet training took a bit longer than I've been used to with other dogs but I put this down to him being so small and having a smaller bladder. At first he had to pee very frequently but as he's grown he's been able to hold it in longer. He will ring the doorbells or just sit and bark at the door when he needs out. He can sit and give us a paw but getting him to stay is still a work in progress! His recall is also something we're still working on. He is definitely getting there but he can be a stubborn little monkey sometimes! Our cockapoo is clingy and very eager to please and do everything he's told, I like to think of Ziggy as the complete opposite - he's a little bit cheeky! On that note he is not clingy at all and can be left for a couple of hours at a time. He also doesn't have a favourite person, he loves us all equally and is a real family pet which is a nice change for my husband and the kids because our cockapoo only has eyes for me!
I would say that personality wise I think Ziggy is more Schnauzer. He likes to "talk" and have a grumble and a yawn at me when he wants something - usually if he wants food or if he wants to play. I didn't realise this was a schnauzer thing until I saw videos on youtube of others doing it! I also think he has a little clock inside him because he'll come and do this at teatime too!

At the moment we love that Ziggy is *almost* one of a kind and unique but I'm very happy to hear there might be some more Boozers in the world soon, they are a lovely mix. Before we got Ziggy, my husband agreed to having two dogs but said he would never have three..... now he loves Ziggy to bits and wants another! So that's the power of these little dogs
Katie xx
---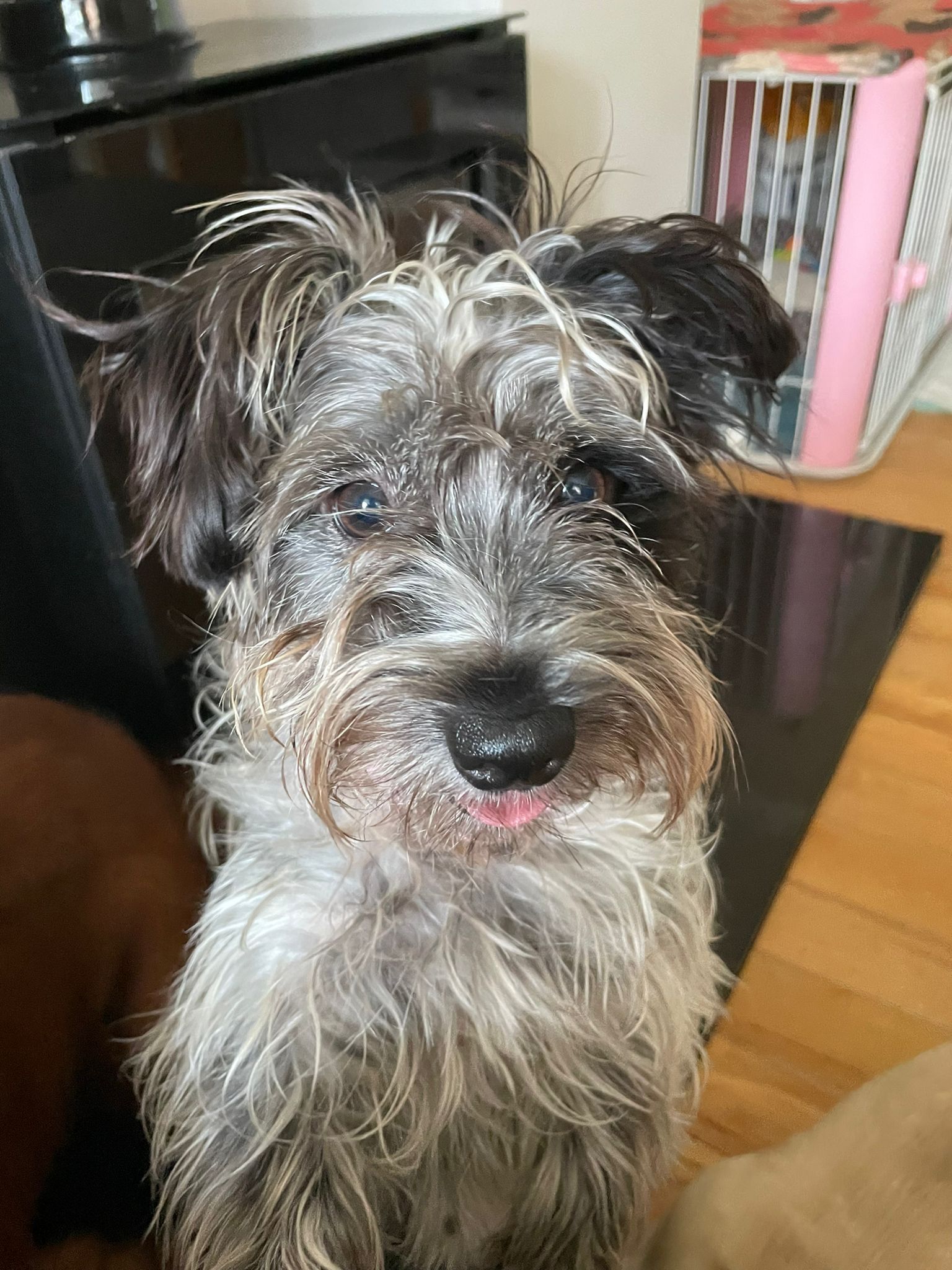 Maggie:

More pictures of Maggie here

Before i add Maggies' owners' feedback, i would like to point out that Maggie is deaf. I have never bred a deaf pup before. I started to realise something different about Maggie when she was about 3 weeks of age, once her ears had opened and most pups are developing their strong sense of hearing. I would walk into my puppy room, and all of Maggies' siblings would jump up and get excited to see me, Maggie would be fast asleep in the land of nod, oblivious to me being there. Initially, the first time this happened, I thought something terrible had happened, I rushed to her as she was so still, but as soon as I touched her, she jumped into action and along with her siblings, got very excited to greet me. So, as the days went on, it was more apparent that this was happening, and I was sure she was deaf. My vet concluded this at 8 weeks of age. Thankfully Maggie was the only deaf pup in the litter, and in future I will not be breeding the same parents together again to ensure that their genetics do not collide into producing a further deaf pup. A lady who came to my home to view another pup, happened to meet Maggie (then called Martini) and had an instant connection with her. At the time, I did not offer Maggie to the lady, I wanted her to go away and take time to see how she felt about the possibility, and challenges of raising a deaf pup. after some research, she got back in touch with me and asked me if she could offer Maggie her new forever home. Obviously, I was delighted, as I know how much she loves her little dogs and would give Maggie the best home with understanding and compassion for the pups' disability. I was so delighted, I offered Maggie to her free of charge, I guess nobody knows what the future holds for a deaf pup, what challenges she faces in daily life etc... and i knew that this offer of a new home was genuine and from the heart. To me, the forever home and the love that she would receive, was far more important than the purchase price... I know that raising her has not been easy, but after a year, this is where Maggie and her new owner are at just now............



Hello Jan.

I'm sorry I haven't been in touch sooner, hope all is well with you & John not to mention your doggies x

Well Martini aka little miss Maggie Barker not related to Sue Barker 😀 has sweetest nature, friends with everyone even dogs on walks she likes to kiss most… adores kids!

With Maggie having no or very very limited hearing it's been challenging getting her to respond she's always too busy for eye contact this makes training /grooming etc very difficult I have to do it on her terms for now.

Maggie is a lengthy wee dog but remains short legged, her hair is more " yorkie like " whispy and fine, no shedding doesn't grow fast at all, cannot get near Maggie with clippers!

Loyal 😂 yes this Velcro attachment is loyal, dare not get out of sight lines or she screeches like a banshee definitely the down side to Maggie hence little Maggie barker 🌸 she still looks a messy little scruffy babe you brush her and five minutes later you would never know she had seen a brush but adored beyond belief, no health issues and very light in weight.

Lovely mating Jan lovely baby and lack of hearing doesn't stop this little lady

thank you for Maggie's birthday wishes, every day is her birthday according to Miss Maggie Barker - she's so so bouncy,
excitable but happy each minute of the day.
My chihuahua babies tia,honey & coco just haven't taken to Maggie due to her exuberance.
Sure your new/planned litter would be welcomed by perspective puppy owners

I'm hoping as Maggie matures she may become more adaptable to grooming matters but for now every minute of her day is playtime!
Take care Jan xxxx
---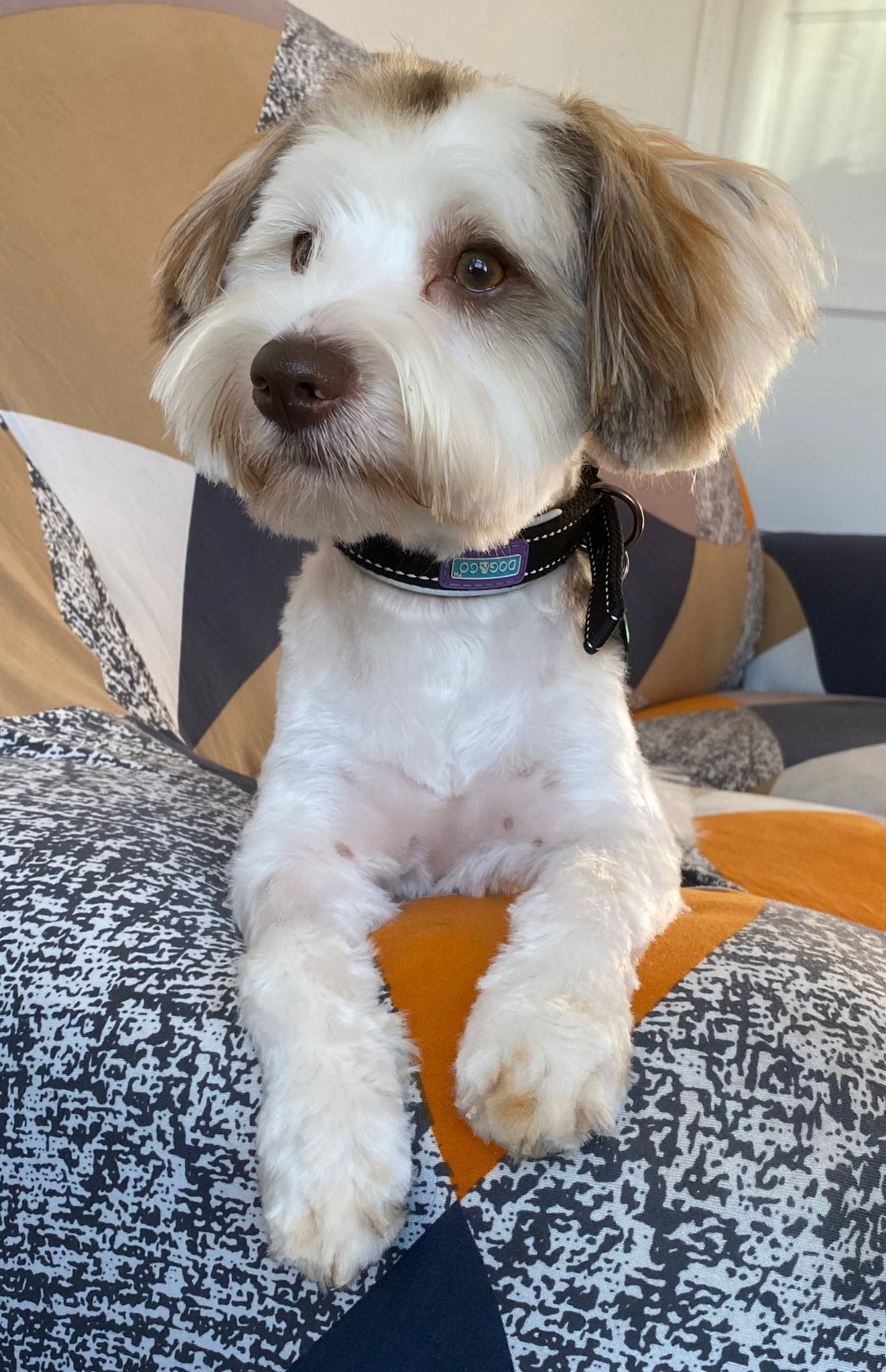 Bailey:

More pictures of Bailey here

Bailey, how to describe him, where do I start. He's such a loving, mischevious little scoundrel. I think Bonnie and Clyde would be suitable for him and his older sister. He loves a cuddle on his terms and will move around to other places to regulate his temp. He loves to lick and to chew anything. You have to be quite strong with him and be prepared to move things. His favourite is paper, you won't believe how many pieces a sheet of a4 can be ripped into. Bailey will see a target and has patience to wait until he has a clear run lol. He loves his walks the beach the water and other dogs. Large dogs are his forte as my daughters dog Wade. He sleeps through the night, usually on his back soundly. He's playful and gentle. Loves children and anyone coming to the house. He loves food. He's very food orientated which helps with training. He went to puppy classes where he got christened the class clown along with the classes most sociable dog. He loves to dig. Anything and everything. He is very intelligent but acts really goofy sometimes. If you want a dog that is strong willed faithful full of fun, keeps you on your toes but is intelligent empathetic and very very loving but never truly clean. Pick one of these. I would have another one in a heartbeat. I've tried to be as honest as I can. The more you put in the more you are rewarded. He's a charmer. Everyone he meets falls in love with him and his quirky ways. Beautiful boy can't thank jan enough x

thanks for the happy birthday for Bailey he's having a find time he's been walking and tomorrow he's off to the green hut cafe for a celebratory sausage. Right now we're off out visiting with them as it's now to warm for their 🐾. Suffice to say I can't imagine not having him I love him to pieces. Xx
---
My Priority is Health & Temperament for the Perfect Family Pet
I am a Qualified, Professional, Licensed Dog Breeder. I breed Toy Breed Dogs which are considered to be Hypoallergenic. All of my pups are conceived, whelped & reared within my home, without exception, and with 24/7 care, many years experience and full veterinary support.