SOLD
Olive is now fully vaccinated, microhipped, vet checked twice in perfect health, and is ready to leave me for her new forever home.
Olive is a stunning Black & Silver female Miniature Schnauzer pup. She arrived safely on 10th January 23. She is a pup that we planned to keep for ourselves., however, I am now facing hip replacement surgery and currently in constant, excrutiating pain and following my appointment with my Consultant, in reality it is just not feasible for us to bring on a youngster for ourselves at this time. I am gutted as Olive is perfect, she would have been a fantastic addition for us, so I am very reluctant, but I must now look to find Olive a new home 😥. She will be a fabulous companion for either a young family, or single retired person , or anybody in between, she is just a little star..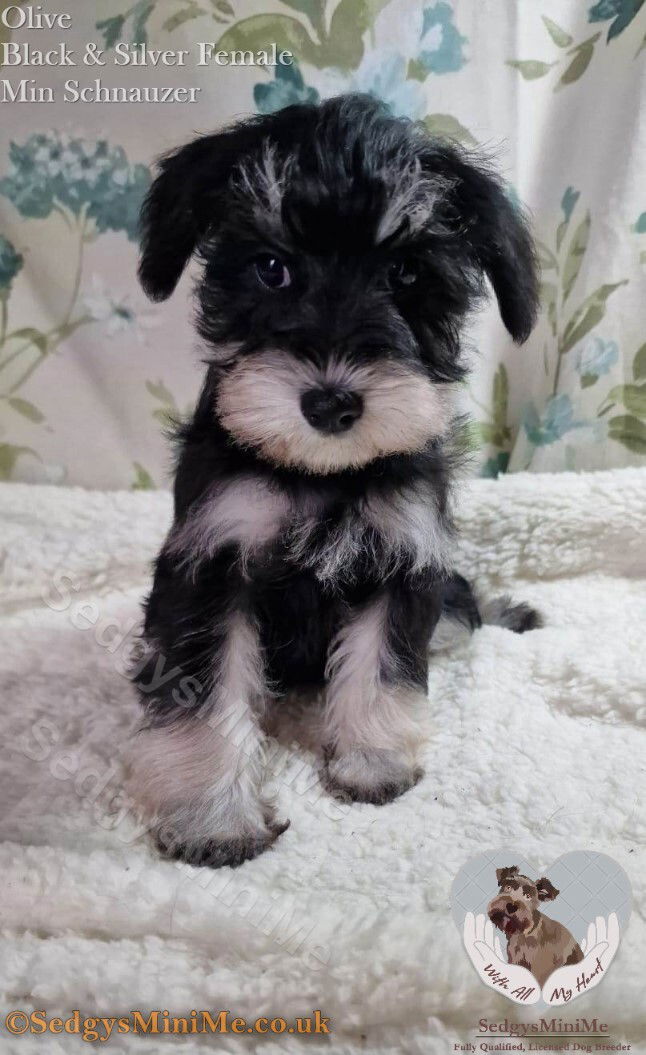 Mother: Opie (Liver & Tan Miniature Schnauzer 5kg)
Father: Rick (White Miniature Schnauzer 8kg)
Breed: Miniature Schnauzer
Gender: Female
Colour: Black & Silver
DOB: 10/01/2023
Registration: Dog World Kennel Club (DWKC)

Ready to Leave: NOW

Price: £1,500
Deposit to Secure: 25% (£375)
Olive is now fully vaccinated, microhipped, vet checked twice in perfect health, and is ready to leave me for her new forever home

Status: SOLD
Please complete my Puppy Application Form if you would like to be considered for this pup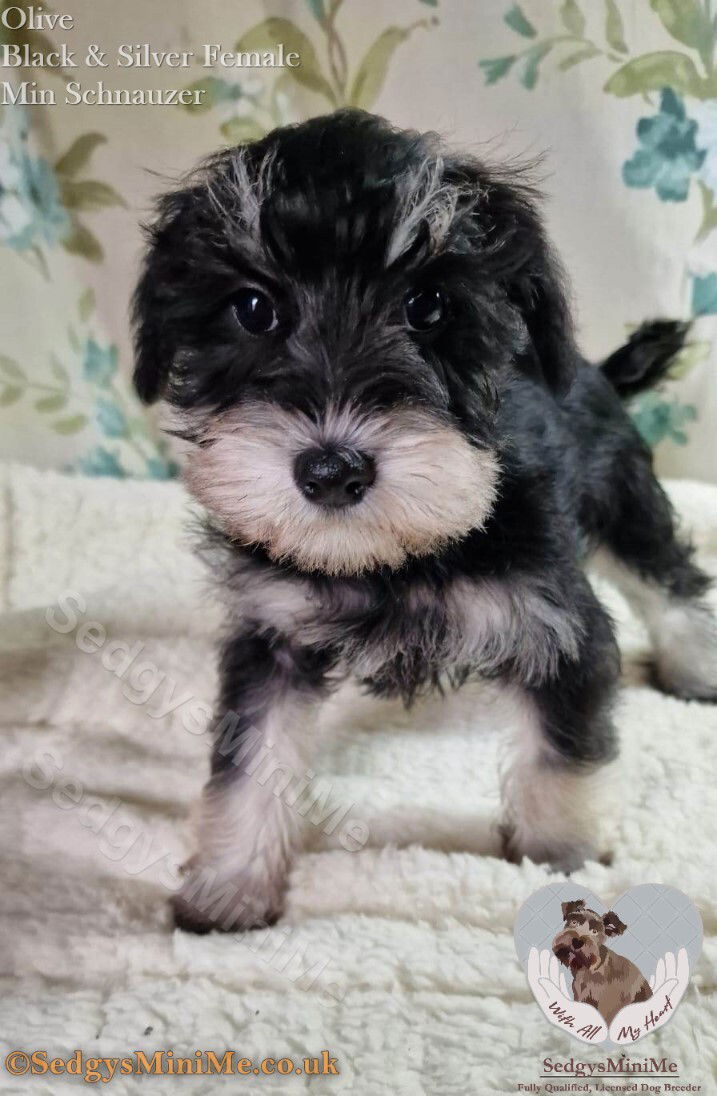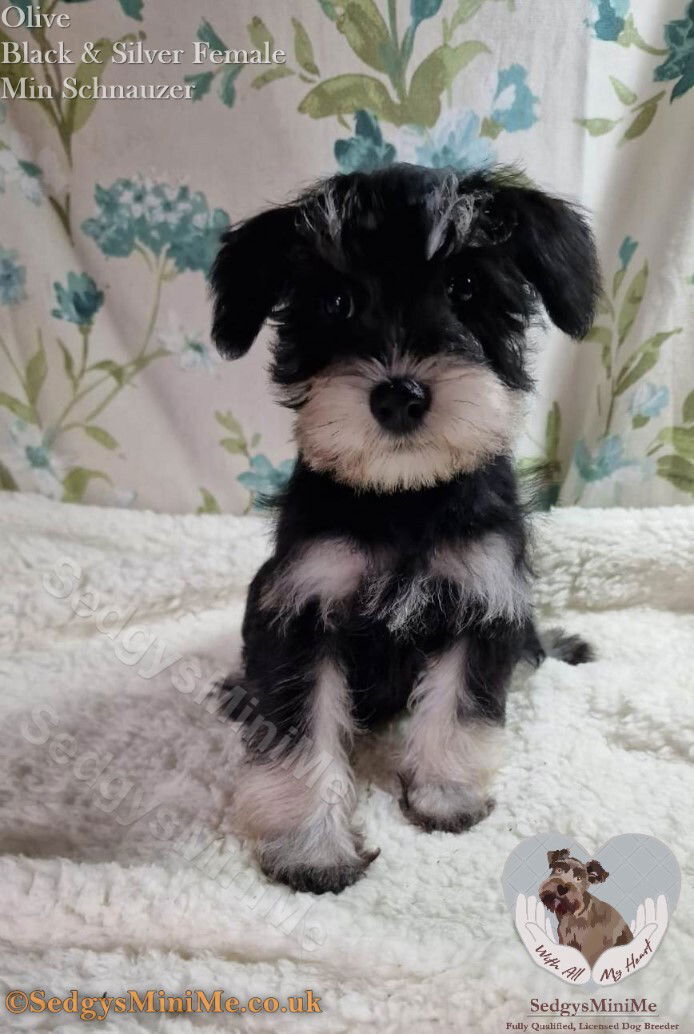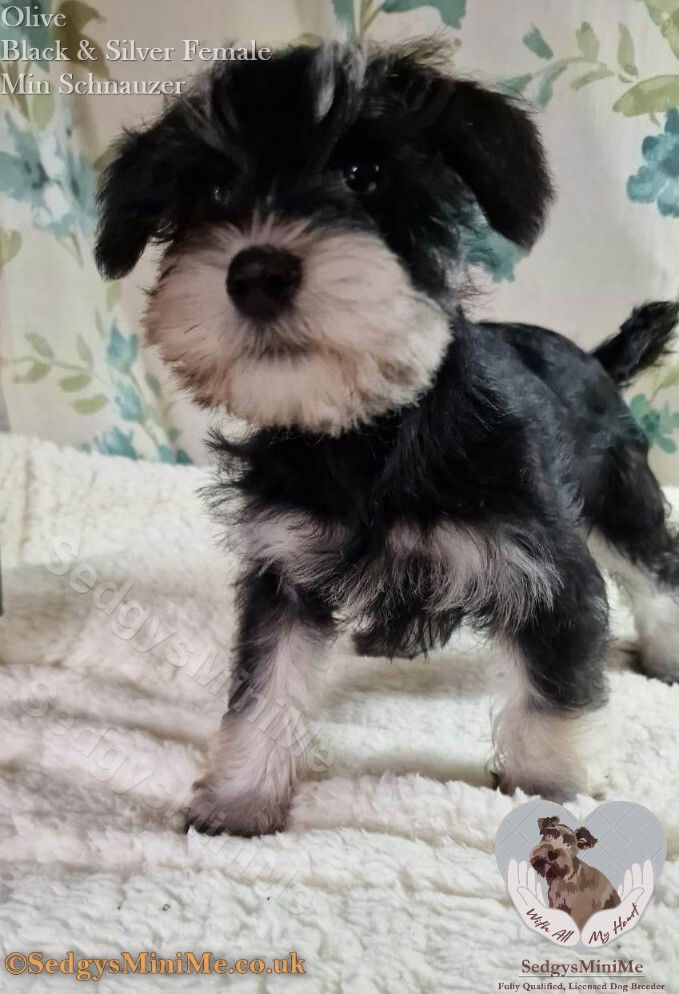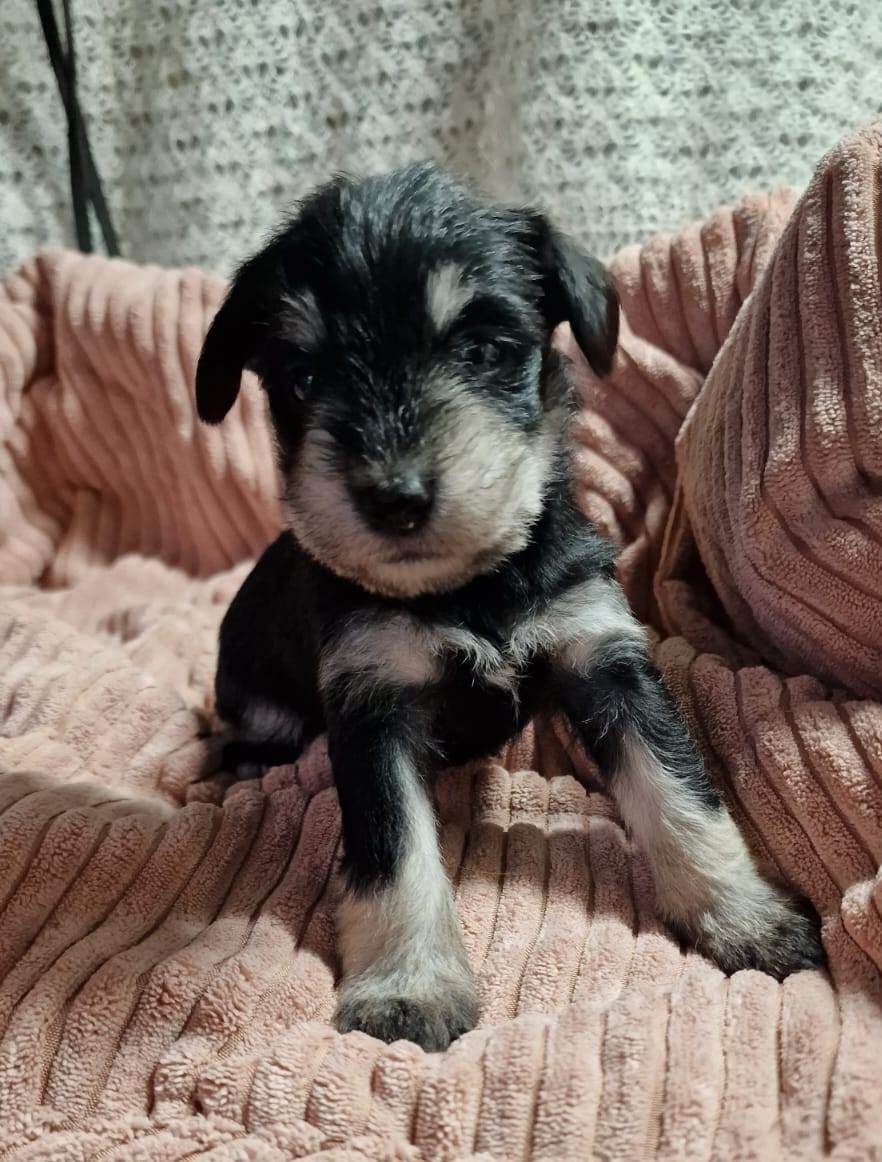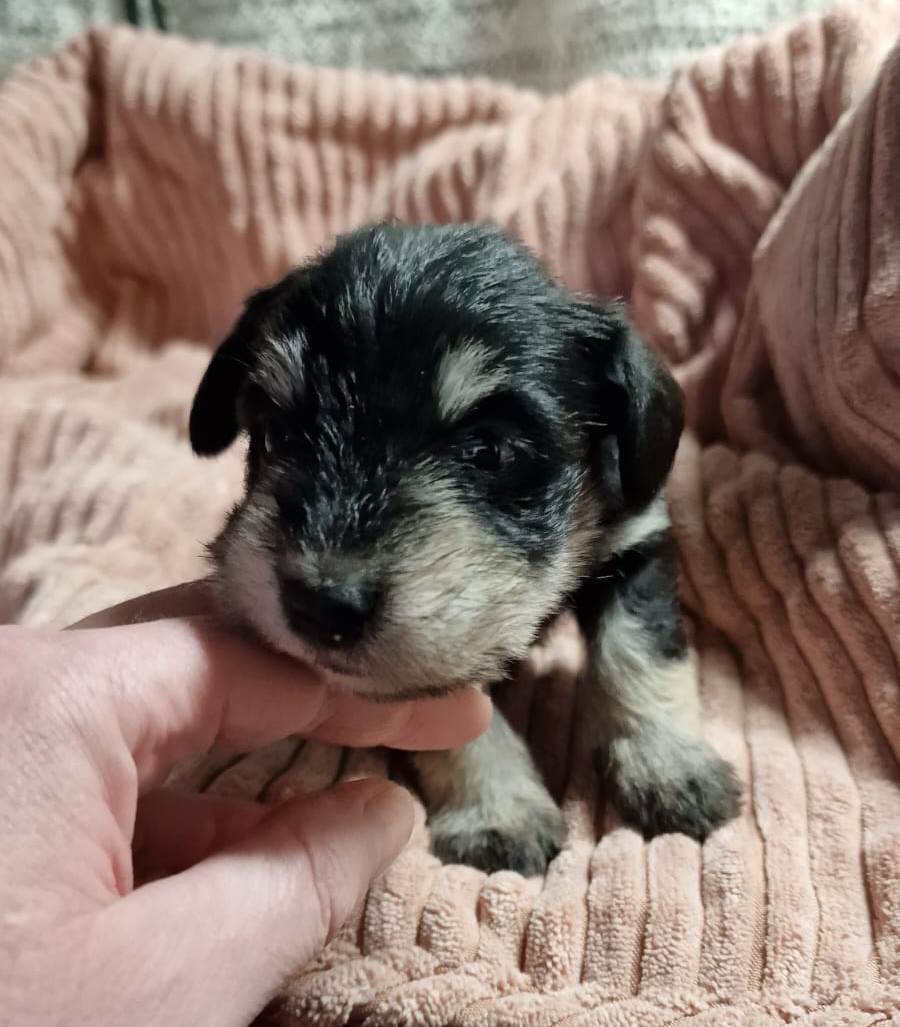 Mother: Opie (Liver & Tan Miniature Schnauzer 5kg)
Father: Rick (White Miniature Schnauzer 8kg)
You can watch videos of Olive and her litter mates growing up in my playlist here. If you Subscribe to my Channel and accept the Bell Notifications, you can watch the videos as soon as they are uploaded.
Before leaving me, your Pup will be:-
Fully Vaccinated (at 8 and 10 weeks of age)
Veterinary health checked twice (if any issues are raised from the health check, I will ALWAYS disclose this to the new owner, or if not yet reserved, details are added to my Website Listing, no matter how small an issue)
Microchipped (with free ownership transfer)
Insured for the first month with Petplan & Agria
Wormed to date (wormed regularly from 3 weeks of age)
Flea/Ear Mite protected with Veterinary prescribed products
I also include my Comprehensive Puppy Pack which includes Veterinary signed vaccination card, microchip transfer documents, insurance documents, DWKC ownership transfer documentation and Pedigree Certificate, Personalised Worming and Flea Protection Records, Follow on Worming and Flea Protection Products, Personalised Diet sheet, Advice Sheets, Food Vouchers, Sealed 3kg bag of quality dry food, wet food, blanket with scent of mother and siblings, favorite toys, puppy collar, clicker trainer, honey.
All of my Miniature Schnauzers are DNA health tested Clear or are hereditary clear (bred from 2 DNA clear parents) for MAC (a Priority Health test requirement of the Kennel Club) aswell as Myotonia Congenita, Type B1 PRA, CMT, Spondylocostal Dysotosis, PMDS, Neuroaxonal dystrophy, Thrombopathia 3, Bleeding disorder P2RY12 def., Cystinuria, type I - A - 1, Hyperuricemia (HUU) and CMR1 . All Health Certificates available to view.
They are not BVA eye tested due to the distance to the nearest BVA eye Vet panellist from me being a 6 hour round trip, and I am currently unable to drive, but if you choose to have your pup BVA eye tested within 6 months of purchase, and the results are not clear/unaffected I will provide a full refund of the pup, I have never had any eye issues with any of my Min Schnauzers in all the years that I have kept them and did have them eye tested when younger.
Opie (along with all of my Liver Min Schnauzers) is registered with the Dog World Kennel Club (DWKC) which is an organisation that registers rarer breed colours and patterns. Rick is KC Registered and DWKC Registered. This Litter will be registered with the DWKC and each pup will leave with a DWKC ownership transfer document as well as a Pedigree Certificate.
To see some videos of Opie's previous Litters, check out my Youtube Here (she has had both Miniature Schnauzer and Toy Schnoodle Litters previously, all pups have been absolutely fantastic, chilled, happy, healthy pups).
My Priority is Health & Temperament for the Perfect Family Pet
I am a Professional, Qualified, Licensed & Registered Dog Breeder. My Affix is "SedgysMiniMe", and my Breeding Licence Reference is 001673 with Dumfries and Galloway Council.
I breed Toy Breed Dogs which are considered to be Hypoallergenic. If you are allergic to certain breeds of dogs, or think that you may be, please contact me for a chat. I am sympathetic to allergy/asthma sufferers as I am also afflicted. I am happy to provide a trial viewing to see how/if you react to your chosen breed, or to another of my breeds that may be better suited for you to avoid symptoms.
All of my pups are conceived, whelped & reared within my home, without exception, and with 24/7 care, many years experience and full veterinary support.
Contact Me or feel free to go ahead and complete my Puppy Application Form so that you can be considered for my Waiting List..
Jan 😊