Name: Bridie
Breed: Biewer Terrier
Colours: Black Tricolour
DOB: 11/06/2022
Gender: Female
Estimated Adult Weight: 2..5/3kg (current weight as @ 01/10/22 = 1.35kg)
Bridie is a very sweet, happy Biewer Terrier Puppy. She is not as confident as her best pal Penny, she tends to be more of a follower than a leader, she would be a little intimidated around children, so would be best suited to a home without children, although I am sure would be fine with visiting grandchidlren, for example. she would be happy in a home as a one to one companion or alongside an existing small breed dog.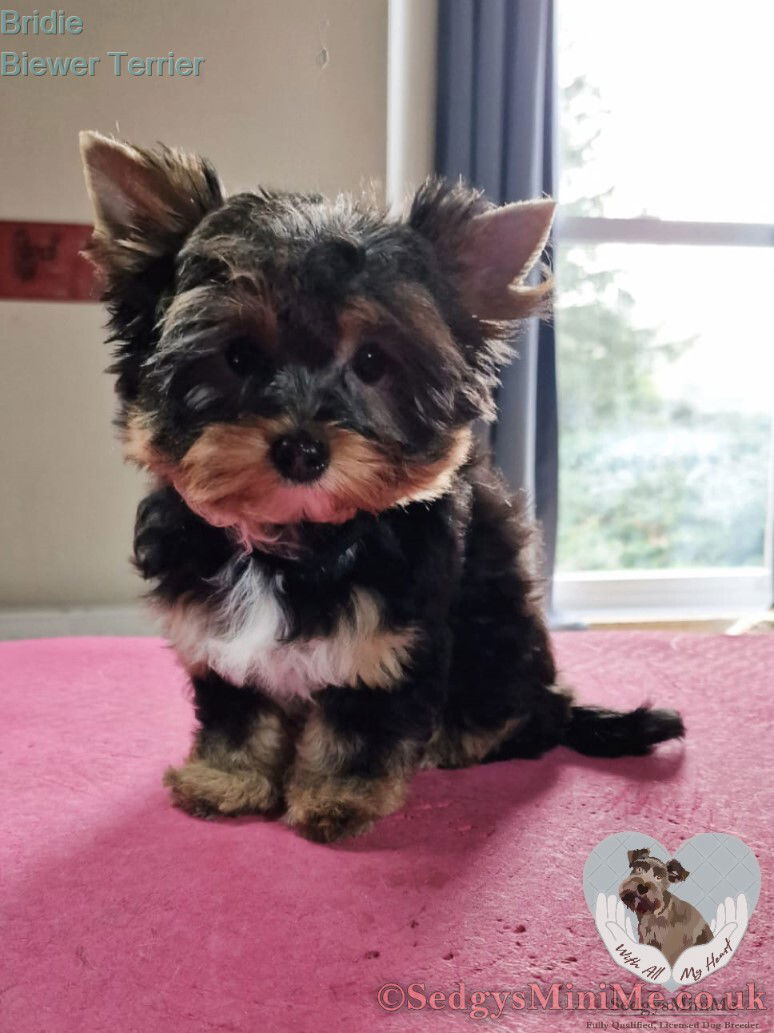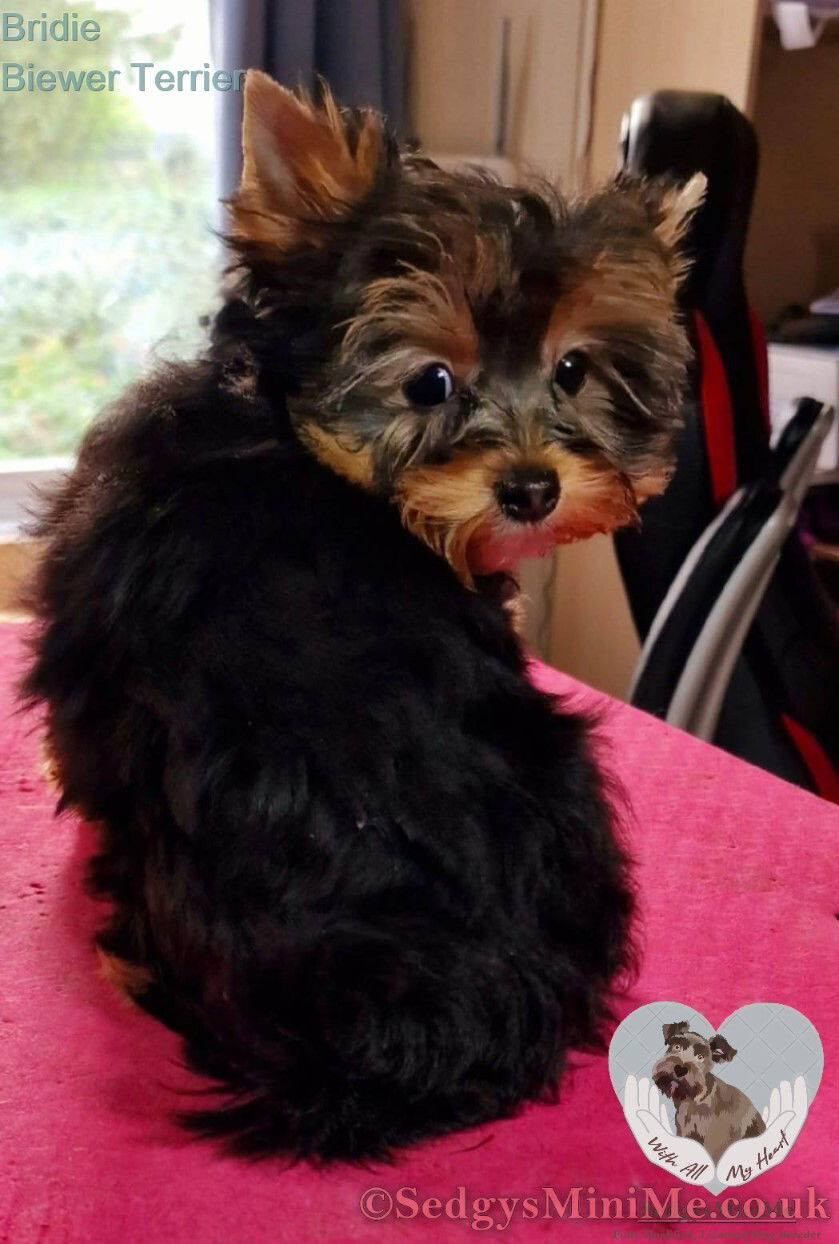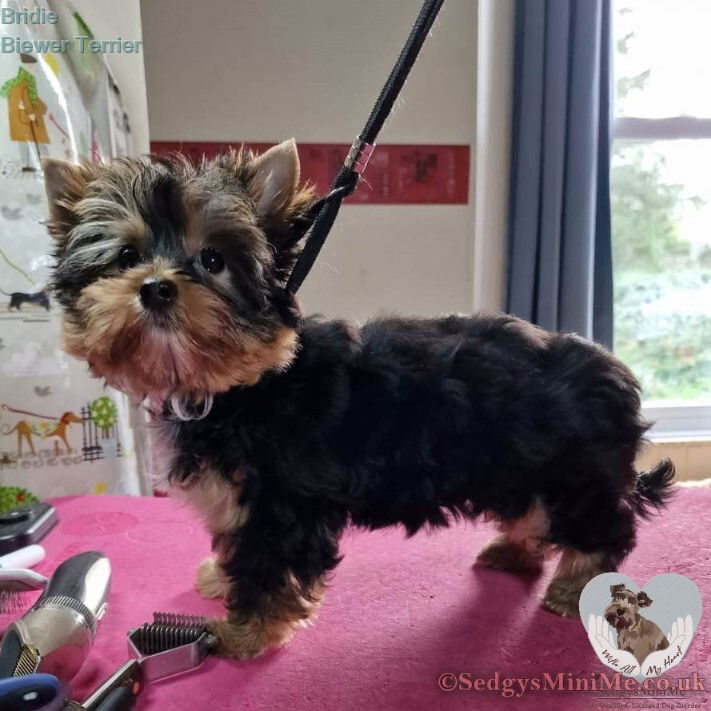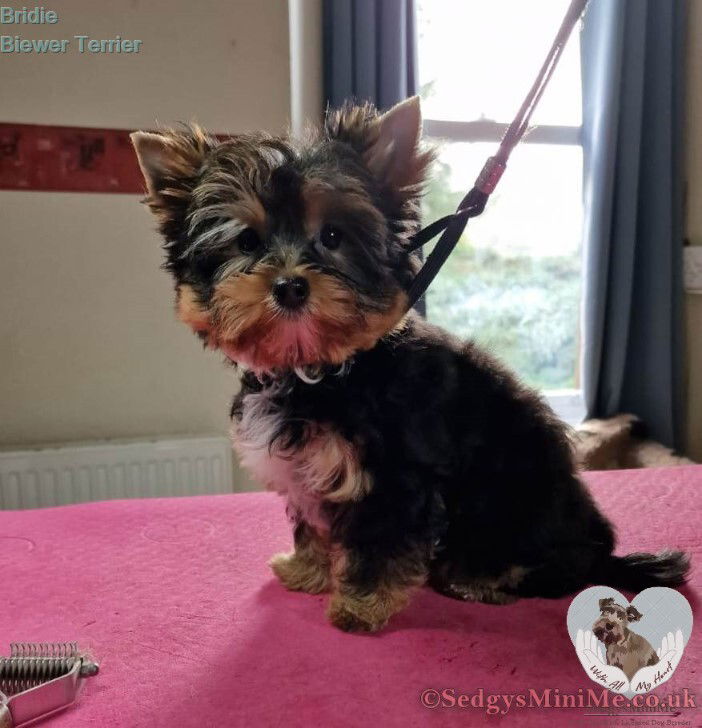 Penny - Tricolour Biewer Terrier Female
Both parents owned & bred by me
Bridie is:-
Fully Vaccinated
Vet health checked twice in excellent health
Microchipped
Insured for the first month with Petplan & Agria
Wormed properly from 3 weeks of age
Flea/Ear Mite protected with Veterinary prescribed products
Comprehensive Puppy Pack (Puppy Sales Contract, Veterinary signed vaccination card, microchip transfer documents, insurance documents, Personalised Worming and Flea Protection Records, Personalised Diet sheet, Advice Sheets, Food Vouchers, Sealed bag of dry food, Food Puppy Pack, wet food pouches, blanket with scent of mother and siblings, favorite toy, and a few other extras for puppy enrichment
The Biewer Terrier is a very petite dog (approx 2.5-3.5kg) and has a non moulting coat. They are fabulous companions for allergy/asthma sufferers as the Biewer Terrier is considered to be hypoallergenic. They require regular brushing, bathing and trips to the groomer (approx. every 5-6 weeks) for clipping to keep their coat tidy and mat free.

The Biewer Terrier who has an amazing zest for life, and loves absolutely everybody and anybody that they meet. They are exceptionally sociable, happy, friendly, confident, energetic little dogs who just love to be alive. Their first year can be quite chaotic, they are little clowns and love to be the centre of attention. But they settle down and mature into the most amazing, loving, little lapdogs and also love to play, and go for walks and rambles. The Biewer Terrier is the perfect addition to a family household (not exceptionally young children due to the tiny size of the puppy) right through to single retired owners. They would be perfect Therapy dogs and are small and easy to maintain and transport and who also love walks and family days out etc...