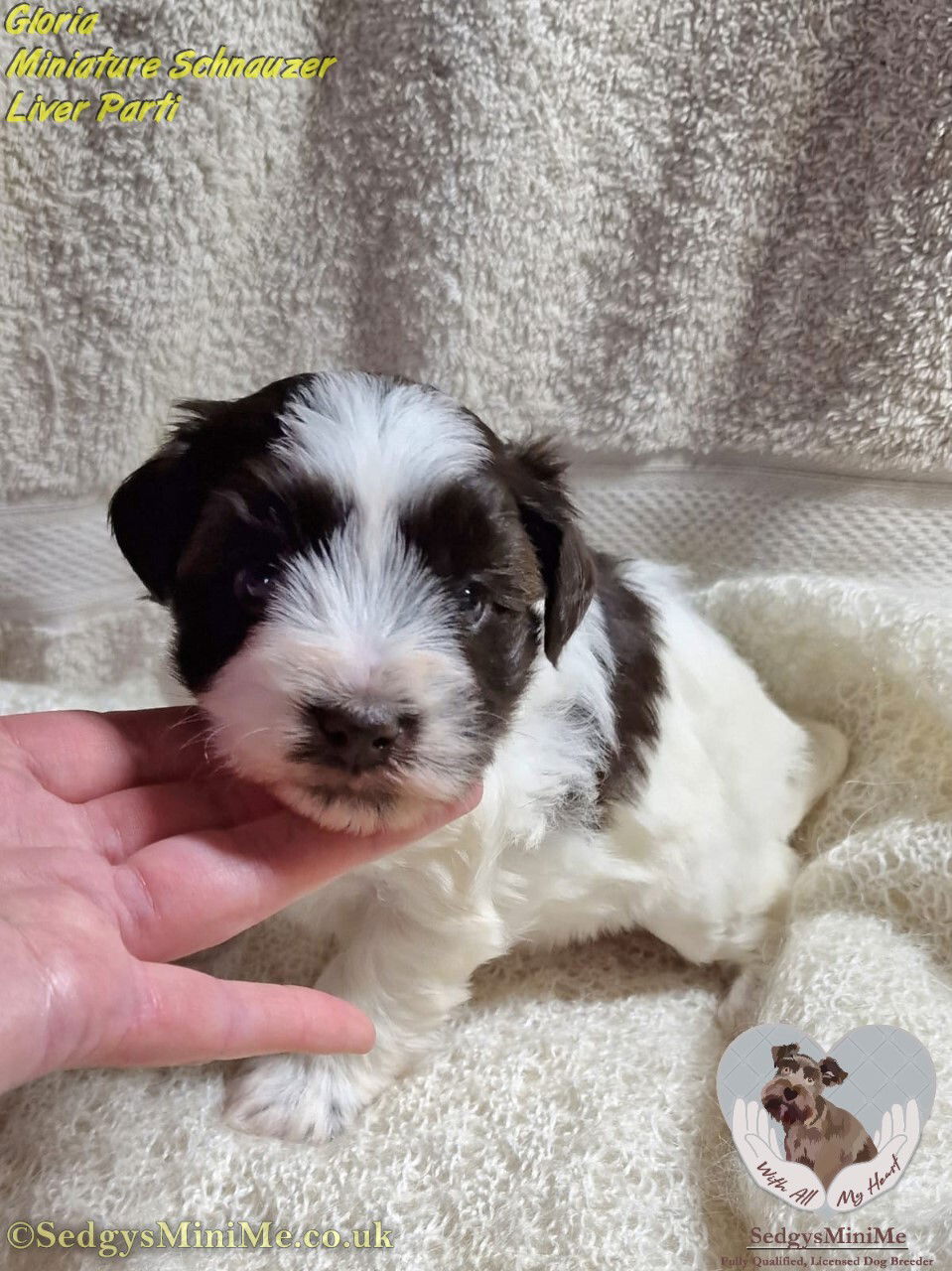 Name: Gloria (Pet Name: Piper)
Breed: Miniature Schnauzer
Colour: Liver Parti
DOB: 02/10/2022
Gender: Female
Anticipated adult weight 7kg

Price: £

Status:SOLD
Beautiful, Healthy Litter of 5 x Liver Miniature Schnauzer pups Born Safely on 02/10/22
WATCH YOUTUBE PLAYLIST OF PUPS GROWING UP
Clever Mum Clover she is Liver Pepper 5kg
proud Dad is Lemmie he is solid Liver 8kg
BOTH parents are DNA tested Clear for MAC, Myotonia Congenita, Type B1 PRA, CMT, Spondylocostal Dysotosis, PMDS, Neuroaxonal dystrophy, Thrombopathia 3, Bleeding disorder P2RY12 def, Cystinuria type I - A 1, Hyperuriceremia (HUU), CMR1
My Liver Miniature Schnauzers were imported by me from the EU and all of them also have USA Breeding Lines in them including well known super-coated "toy" liver schnauzers
Expected adult weight of pups 4.5kg - 8kg (as they have USA "toy" breeding lines in their pedigree, the pups can vary from "toy" sized to "miniature" sized. At 3 weeks of age, it is looking like 3 of the boy will reach miniature schnauzer weights of 7-8kg and one of the boys will be more like 5-6kg adult weight.)
Super soft coats, ideal for allergy sufferers
3 x Liver Male pups will be Available from this litter
Price: £RESERVED
A Deposit of £200 will secure your place on my Waiting List for one of these pups.
The pups will be ready for viewing at 5-6 weeks of age.
Will be ready to leave from end November - mid December
Price will include:-
Fully Vaccinated before leaving me
Vet health checked twice before leaving me
Microchipped before leaving me
Insured for the first month with Petplan & Agria from date of collection
Wormed properly from 3 weeks of age
Flea/Ear Mite protected with Veterinary prescribed products and follow on product provided
Comprehensive Puppy Pack (Veterinary signed vaccination card, microchip transfer documents, insurance documents, Personalised Worming and Flea Protection Records, Personalised Diet sheet, Advice Sheets, Food Vouchers, Sealed bag of dry food, Food Puppy Pack, wet food pouches, blanket with scent of mother and siblings, favorite toys, treats, clicker machine, natural chews and puppy enrichment items
Dog World Kennel Club (DWKC) registered. I will also provide DWKC Pedigree and DWKC ownership transfer document.
If you would like to be added to my waiting list, for one of these 3 boys, please, in the first instance, complete my PUPPY APPLICATION FORM HERE. This allows me to learn about you as a potential new owner of one of my pups, and ensures that i can assist in helping you to choose the most suitable pup for your needs. People on my waiting list receive priority news of the litter (scan results, news of the birth, puppy details, pics and videos of the pups developing, regular progress reports, priority viewing etc..) all before the pups are added to my website.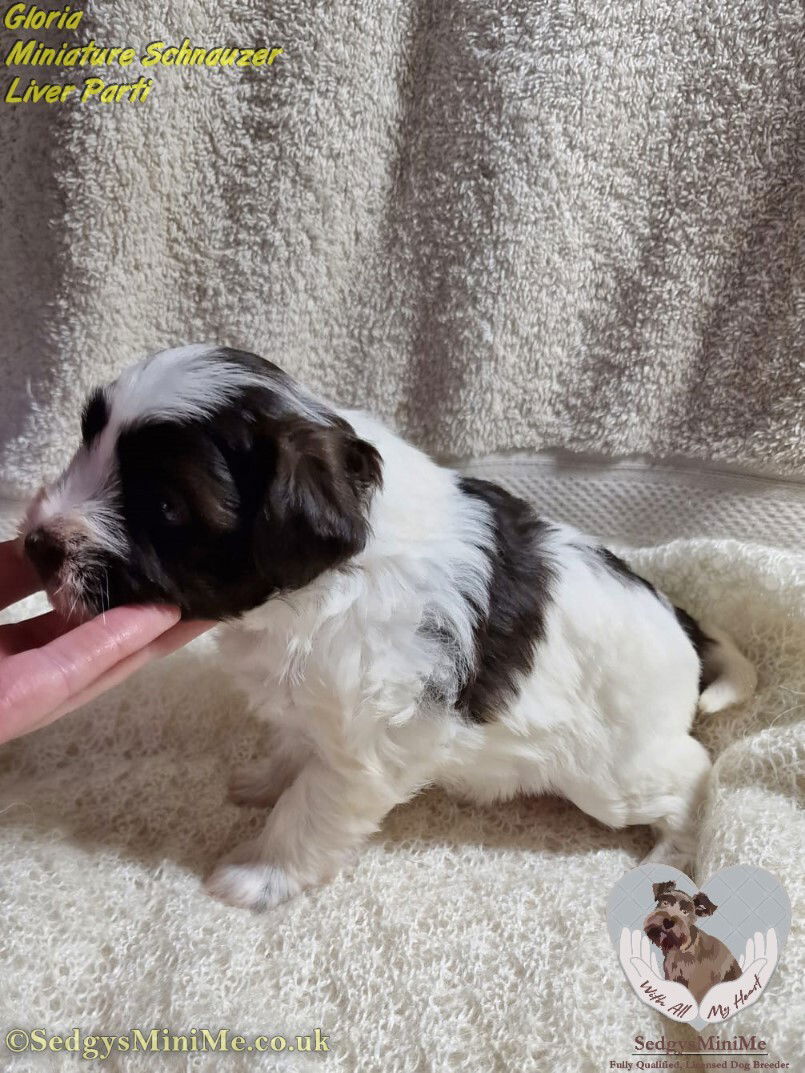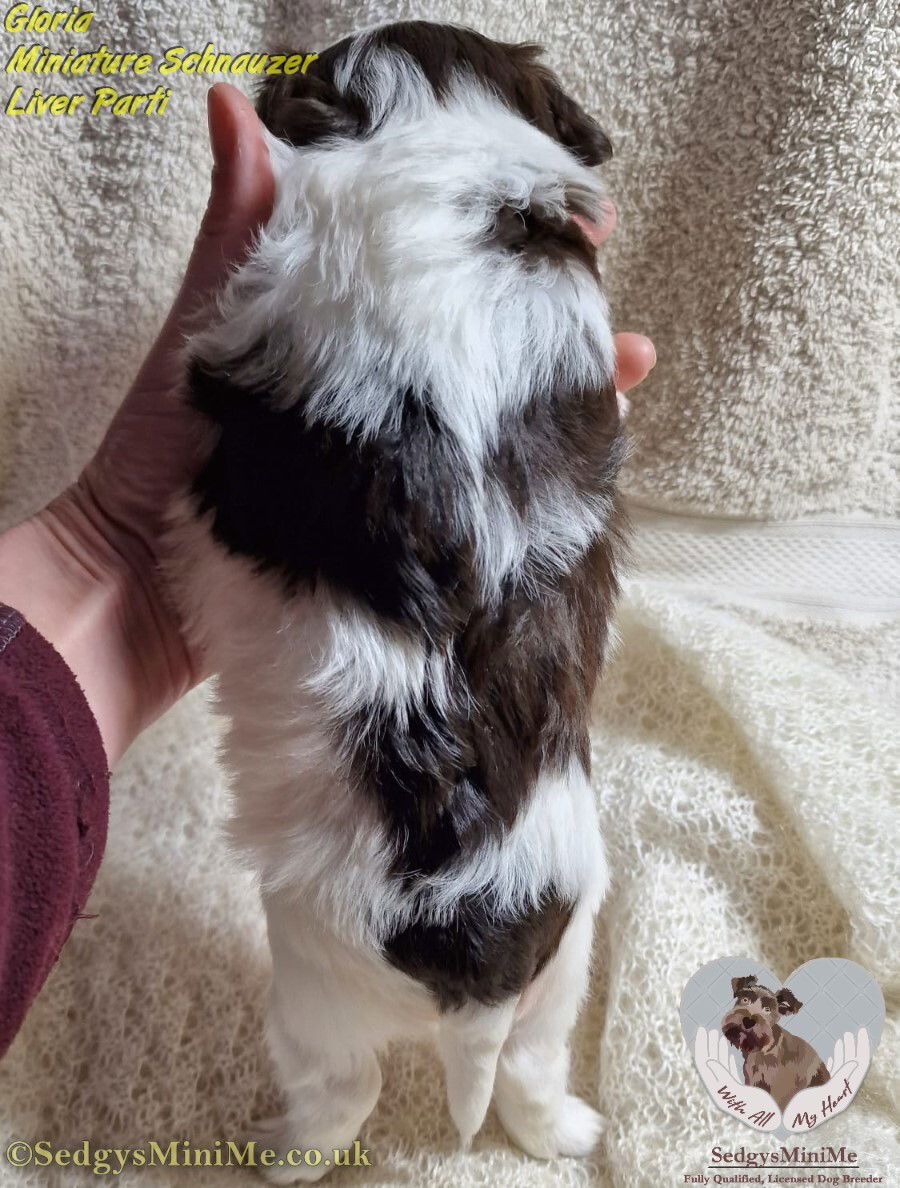 One white rear paw
Pics of some of my previous Liver Miniature Schnauzer Pups can be seen below:-